Details
Date:
August 15
Time:
10:00 am - 12:00 pm
Click to Register:
Click to Register
Take control of your own story. Gain essential tools and knowledge to plan well for your, or a loved one's, end of life.
There's a lot of information out there about planning well and getting our affairs in order. It can be hard to know where to begin!
This 2 hour workshop will help you pull it all together and explore end-of-life planning in an engaging, accessible way, leaving you feeling confident in knowing what options are right for you and your family, whilst recognising the strength of your existing skills and experience.
Only 53% of Australians feel able to talk to another family member about end of life. The Ten Things to Know Before You Go workshop gives you the tools for these essential planning conversations to flow easily and productively.
From accessing the legal documents to planning a funeral and understanding palliative care, this workshop covers all the essentials and helps you navigate 'what's next', in a relaxed, supportive learning environment with other people who are looking to plan well.
This workshop is offered online in a small group setting with facilitation and interaction enabling sharing and learning from each other's experiences. Previous participants have left feeling more empowered with knowledge about navigating different aspects of the end of life system. 80% of participants have reported that they took direct action in end of life planning as a result of the workshop.
When: Monday 15 August, 10am – 12pm
Where: Online via Zoom
Cost: Free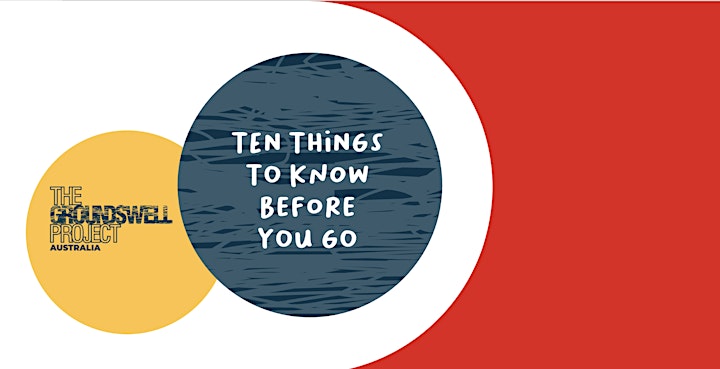 About the Host
The Groundswell Project
Kicked the bucket. Croaking it. Pushing-up daisies. Passed over, on, away. The D-word. We have no shortage of names for it, but when faced with death we are often lost for words.
The Groundswell Project works with individuals, organisations and communities to improve how people in Australia die, care and grieve. They run educational workshops, develop innovative programs and advocate for a better end of life experience for all.
Our superstitions, fears about dying and the discomfort we feel, affect our approach and experiences of the end of life. Death is often over medicalised and institutionalised in Australia, and the health care system does not harness the real value of involving family and friends in the process. Because of the lack of options, knowledge, capacity and decision making power, there are often negative repercussions for the person dying and those around them.
We reckon it's time for an upgrade on how we go about our dying matters.
Read more about the amazing work The Groundswell Project are championing at their website www.thegroundswellproject.com.

About Belong Club
We welcome you to join the Belong Club!
The Belong Club is a Northern Beaches Community Care initiative designed to build community connections. We use local presenters to run online and in-person events that everyone is welcome to join.
Through activities, conversations and knowledge sharing, Belong Club brings together anyone looking to try something new, re-explore old passions, socialise and build more community connections.
The online component of the Belong Club offers increased accessibility to new and ongoing connections as part of a supportive online community, to sustain health and wellbeing.
Check out all the activities on our website, at ccnb.com.au/events.
All Belong Club events are currently free.
Once you join an event, you're considered a member of Belong Club! We'll start sending you a weekly email update with the upcoming week's event. Remember, you're free to unsubscribe from these at any time.
Contact us
If you have any questions, please email belongclub@ccnb.com.au or call 1300 002 262 to speak to the team.